By Navendra Seoraj
PRIMARY production has been the hallmark of the local economy, mainly because secondary production- manufacturing- has been constrained by the absence of reliable and cheap energy, something which the new government is looking to address, incrementally, through its revised energy mix, which includes tripling the power in Lethem, Region Nine (Upper Takutu-Upper Essequibo).
Energy and electricity, particularly from a renewable source, are undoubtedly critical elements to the growth of an economy and the welfare of people, as they catalyse advancement on all fronts.
The government, after reviewing the nation's energy mix, has crafted a strategy which would move Guyana towards energy efficiency, said Vice-President, Bharrat Jagdeo, during a press briefing at the Arthur Chung Conference Centre, last Friday.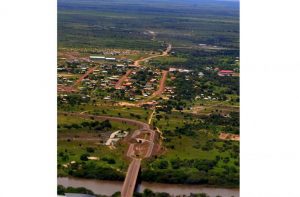 "We have had a serious review of almost all of the small systems that we have had. In the last couple of weeks, we have approved contracts to do hydropower at Kumu [Lethem]…we had to look back at what was planned, so we would get 1.5 megawatts from that and we have to rehabilitate Moco Moco which would be another .7 megawatt. So that is 2.2 megawatts and just last week we approved a one megawatt solar farm…," said Jagdeo.

The aggregate supply of 2.2 megawatts plus the one megawatt produced by the solar farm would give Lethem three times its current capacity. The town's peak demand is about 1.1 megawatt of power.

"We would have almost triple the capacity and this is all coming from renewable energy, which would allow a massive growth in industrial estates and industrial plants for that area, and also residential purposes," said Vice-President Jagdeo.

Sitting at the southern end of Guyana, Lethem borders Brazil, which is a known economic powerhouse in South America. The availability of reliable and cheap electricity would, therefore, inevitably draw consumers and developers to Lethem.

"If the entire Lethem is running on renewable energy, money is saved; there would be a budgetary balance of payments impact, welfare impact and a business impact," Jagdeo reasoned.

Given the immense benefits which could stem from reliable and cheap electricity, the Vice-President said the provision of such remains a top priority for the government.

The shift to renewable energy is not unique to Guyana, as the Bloomberg Green would have reported that the world financed $282 billion of renewable capacity in 2019.

According to the report, onshore and offshore wind power led the way with $138 billion followed by solar with $131 billion.
A historical analysis, cited by Bloomberg Green, shows that renewable energy drew more than $2.6 trillion in investments from 2010 to 2019.
It was said that building new wind or solar capacity now costs less than adding the equivalent in coal or gas plants in two-thirds of the world.
Guyana's current energy policy seeks to ensure that stable, reliable and affordable energy is provided to all persons in Guyana within an economically, environmentally and socially sustainable framework.

In the Nationally Determined Contributions (NDCs), Guyana has committed to develop a mix of wind, solar, biomass and hydropower to supply both the demand of the national grid and the energy requirements for towns and villages in Guyana's hinterland.

Notably, with adequate and timely investors, an ambitious target of achieving close to 100 per cent renewable energy in the power sector by 2025 has been set.

Speaking about this, Vice-President Jagdeo said: "On renewable energy, we plan to restart in this area. A lot of commitments were made by APNU; they pledged in the Paris Agreement that there would be 100 per cent renewable by 2025 with no project to deliver on that promise."
Already, in addition to the plans for Lethem, the government has approved a project for the construction of a 1.5 megawatt solar farm at Bartica, Region Seven (Cuyuni-Mazaruni).

The government is also moving to install a .5 megawatt solar-powered system in Wakenaam and funding is being sought to establish a similar system in Leguan.

The Vice-President also said that funds are being sourced for the establishment of solar units at Mahdia, Region Eight (Potaro-Siparuni).
"These are small units that would help, significantly, to bring down the cost of supply because they would be running during the day. So we would still need fossil fuels in the evening, but it (solar) would extend power during the day until we put in the units with batteries to store power," Jagdeo explained.
He said the government's vision for isolated communities is clear, so it now boils down to the implementation of these projects, which have already started in some areas.

"APNU has never clearly defined an energy mix for the country and there was never a great deal of clarity on where they want to go…we have had to do all of this in a short period because that is what is required. We have to hit the ground running now," said Vice-President Jagdeo.

AMAILA HYDRO

On a larger scale, he said, the government has already resumed talks on the Amaila Falls Hydro project. The Amaila Falls Hydro project was initially designed as a 165-megawatt facility.

"We are reviewing documents to chart a pathway to hydropower development. This is crucial given the abundant water resources…it has to be an important part in the energy mix," said Jagdeo.

The Guyana Chronicle had reported that the project is expected to cost just under US$1 billion and will be able to generate 165 megawatts of stable and reliable electricity for 11 solid months of the year, with the additional month during the dry season being used for scheduled maintenance.
The last time this newspaper checked, the project is still bankable, meaning that the financiers are still open to the idea of funding the project and all the technical studies are still relevant. Therefore, the restart timeline is expected to be much shorter than it was before 2015.
The Guyana Power and Light (GPL) Incorporated currently sells electricity to the nation at about US$0.33 per kWh and this is expected to be reduced by 25 per cent within the first year of the operations of the Amaila Falls project, and by 50 per cent within five years; and by the end of 20 years by as much as 80 per cent.

The benefits which would accrue to the country from this project alone are immense, but Jagdeo said Guyana would save millions of dollars more, through the entire revised energy mix.

Guyana would be able to retain money and increase internal flow (improved Balance of Payments), said the Vice-President, adding that there would be more disposable income in the private sector and in the pockets of the average Guyanese.

>