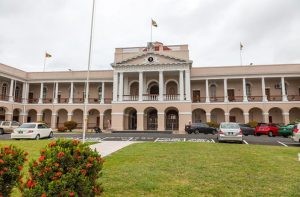 This is the only justification for "Shared Governance":
Two race groups. One group numerically (slightly) larger than the other. Each group has its own race-based party. Almost down to the last person everyone votes race. In such a setup, the larger group will always win. The smaller race group will be permanently cut off from executive power.
How do you solve this problem: Call for Shared Governance?
ANUG is calling for Shared Governance. This is the worse of two options. With Anug's option, that is the death of democracy. Also, Shared Governance has zero chance of working. The Africans and the Indians sharing the Cabinet will be engaged in something called "outbidding" - fighting for govt largesse for their own race group. Shared Governance is a terrible idea. it is really backward. Shared Governance will collapse in 6-months. (It was tried in Suriname - and it collapsed, paving the way for the Bouterse coup in 1980)
BTW, no race-based party is permanently cut-off from Executive power in Guyana. (Changing demography took care of that problem). Didn't the African group (in Coalition with AFC) win the election in 2015? Alright the Coalition ruled badly, corruptly - and it lost the 2020 election. Don't they have another chance in 2025? Isn't that how democracy works?
ANUG would have a hard time making a case for Shared Governance.