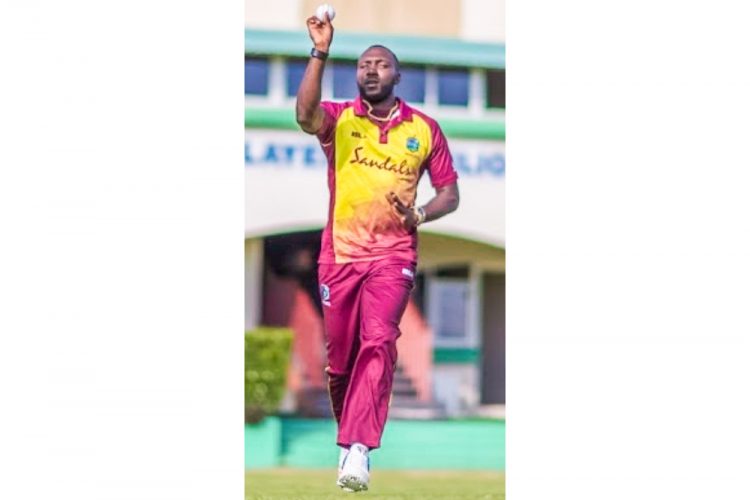 Vincentian fast bowler Kesrick Williams is relishing the opportunity to play alongside Dwayne Bravo in the cricket set up.
The 30-year-old Williams had one of his cricket dreams realised recently, when he shared the same dressing room with Bravo, as they were part of the West Indies T/20 team that toured Sri Lanka earlier this year.
"I would say that he's my favourite player… I love to see him play… It feels even better now that he's back on the West Indies team, coming out of retirement and I'm playing with him… It feels good," Williams told SEARCHLIGHT.
"I can remember the first time I played against Bravo…I did well for the CCC ( Combined Campuses and Colleges) … I was just standing there staring, as it was my first time seeing him face to face," Williams reminisced.
But Williams noted that since he was an Under-15 cricketer, he was told that he can be the next Bravo.
"I can remember playing Under-15 cricket for St Vincent (and the Grenadines), and Paddy Thomas and Otis Jack told me that I can be like another Bravo," Williams disclosed.
He recalled at the time he was considered a better batsman than a bowler.
Spurred by the comments of Thomas and Jack, Williams noted : "From that day, I always see myself as doing like Bravo; not trying to play like him or be like him, but I'm looking at him and trying to learn as much as I can from how he plays his cricket…"
"The energy that he brings… If you realize whenever I get wicket, I do my little funny dances and my celebration, all of that is from Bravo," Williams added.
Williams has made a name for himself worldwide, with his various celebration antics whenever he claims a wicket.
Williams, who has over the last four years developed as a T/20 international bowler for the West Indies using his guile and change of pace to outfox batsmen, would like to learn a few more tricks from Bravo.
"Because of what he has been doing over the years, like bowling the attacking yorkers at will as Bravo can bowl it, I am hoping that while he ( Bravo) is there in the team that I will get an opportunity to learn a few things from him," Wiliams projected.
A bubbly fast bowler, who has excelled mainly at the T/20 format, Williams made his first class cricket debut back in 2011.
However his chequered first class career has seen him having nine matches under his belt.
Williams, who made his T/20 International debut in 2016, has played 25 matches and 8 One Day Internationals since starting in 2017.
But Williams in all has appeared in 87 T/20 matches and 27 List A matches.
His T/20 skills has seen Williams play for the St Lucia Zouks, the St Lucia Stars and the Jamaica Tallawahs in the Caribbean Premier League, as well as the Chattogram Challengers and the Rajshahi Kings in the Bangladesh Premier League; Toronto Nationals in Canada's Global T/20, as well as for the Karnataka Tuskers in the T/10 league held last year in Abu Dhabi.
Additionally, Williams has represented SVG at the Under-15 , Under-19 and senior levels, along with the Windwards and CCC in the regional tournamenhttps://searchlight.vc